Suzette Herft Joan Baez 2011
Suzette Herft in Concert on 24th. September, 2011 at the Daylesford Inn 2891 Ballan Rd,Daylesford, Vic Australia
At 7:15PM
6.30 PM support act Vanessa Craven
Tickets $20 show only, Dinner and Show $40
Bookings : 03-53482554 ( Meals available at bar prices).
Back by popular demand -Suzette Herft will be performing her Joan Baez Tribute Show.
Suzette Herft is a contemporary troubadour whose roots are in the American Folk tradition. Known for her beautiful, soulful voice, she has often been described as the "Australian Joan Baez".
Suzette will impress you with her original and award – winning contemporary songs.
She has 3 albums to her credit and has sung at various festivals and venues around Australia.
Don't miss this "charismatic singer-songwriter with a heart in tune with her world and a voice to go with it" (The Australian Songwriter).
Shining – A Diamond in the Rust – A tribute to Joan Baez
(Duration – 1hr and 40 mins)
Shining – A Diamond in the Rust – A tribute to Joan Baez
(Duration – 1hr and 40 mins)
Support act Vanessa Craven will be performing at 6.30 PM with her mult-istrumental set of folk, blues and country music including covers and originals.
PAST CONCERTS :
Leigh Sloggett :
Concert on 18th. June 2011 at the Daylesford Inn 2891 Ballan Rd,
Daylesford, Vic Australia
At 7 PM
Tickets $20.
Bookings : 03-53482554 (Meals available at bar prices).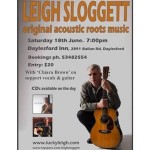 Leigh Sloggett will be accompanied by Chiara Browne on guitar and vocals.Chiara is back in Australia after playing for 10 year,in Ireland. Both Leigh and Chiara complement each others vocals, and guitar playing,and present a neat musical package.
Leigh Sloggett performs original acoustic folk, blues, and instrumental guitar music. His songs, rich in story telling, are delivered with distinctive husk tinged vocals and compelling musicianship, on both lap-slide and finger picked guitar. He has been performing around Melbourne's pubs, festivals and clubs since 2002 and toured overseas for the first time in 2008. He has released two CDs, 'Sliding To Your Destiny in 2006 and Looking For the Clues 2008. In The Folk and Music Exchange Mark S. Tucker described Looking For the Clues as, "….a letter perfect blend of folk and blues, one of the best I've ever heard. Both albums have received airplay around Australia, Europe and USA.
Pete Fidler Bill Jackson
Bill Jackson
Bill Jackson
Albury born and Gippsland reared singer/songwriter Bill Jackson has had a big couple of years. His 2008 release "Steel & Bone" was awarded Folk Alliance Australia, Radio Presenters Album of the Year in 2008 and he was invited to tour the US alt country hotspots later that same year with his Acoustic Orchestra (Peter Fidler / Ruth Hazleton). Many of his songs are co-written with his brother Ross and have been described as engaging, plainspoken and articulate – songs about Hank, Morphine, High Country Lovers and our shared common experiences. Jackson was also invited back to showcase at the International Folk Alliance Convention in Memphis (Feb 2010) and to play gigs at selected venues like The Bluebird Cafe in Nashville. Peter and Bill recorded an EP The Nashville Sessionl during this trip live in the studio. They have just recently returned from their third US Tour where they played shows around Nashville (including an in the round at The Bluebird with David Olney), The Blue Plate Special on Radio WDVX in Knoxville and at Roberts Honky Tonk, broadcast live on WSM. They also returned to Memphis to play Folk Alliance (2011) as well as record 10 new songs at Jack Irwin's Silvertone Recording Studio in Nashville to be released during 2011. Jackson has also recently been nominated for an APRA Professional Development Award in Songwriting.
Pete Fidler
A decade after ditching his electric guitar for a dobro, Pete has become a familiar and respected sidekick and session player for numerous bands, instrumentalists and singer/songwriters. Pete specialises in Bluegrass music, currently holding down the dobro/mandolin chair in Bluestone Junction, and has toured the USA twice with singer Bill Jackson, as well as appearing at major festivals with fingerstyle guitar picker Nick Charles. In 2008 Pete released his debut CD, "Slide Night", a collection of original dobro tunes and songs featuring some of Australia's best Bluegrass musicians.
Vanessa Craven
Singer, songwriter from Daylesford will be sharing her original music and covers in the folk, blues and country genres. She is a multi-instrumentalist and will perform in a variety of guitar styles, with harmonica, didge and cajon drum.