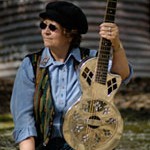 W

ho are we and what do we do?
Acoustic Sessions hosts the official web site for Vanessa Craven.
It is a 'not for profit' organisation, and has promoted live music in the Daylesford region of Victoria, and provided musicians with performance space and promotional support.
Open Mics
or performance nights have been held on the 3rd. Friday of each month commencing at 7 PM at the Senior Citizens Centre (adjacent to the Daylesford Town Hall), Vincent Street, Daylesford, and this year at another venue which closed down. We are still looking for a suitable venue to run this event. Currently this event is not running.
Concerts
were also organised, and performers such as Janette Gerri, Nick Charles, Suzette Herft, Tiffany Eckhardt and Dave Steel, Pete Fidler and Bil Jackson and Leigh Sloggett performed their music.
In addition to this, Acoustic Sessions started the Daylesford Spring Folk Blues Fest with the inaugural event on 18th September 2010 followed by the second Festival, on the 8th. October 2011, third Festival on the 13th. October 2012 and fourth Festival on the 12th. Oct 2013.

The preferred music genres for our events are folk, blues, roots and country.
The 5th. Daylesford Spring Folk Blues Festival 2014 will not be held. It was great while it lasted, but it was time to move on to other things.

---
OUT NOW
By SUGAR 'N' SPICE 2019
Read more…
Purchase from:
https://store.cdbaby.com/cd/sugarnspice1