Sliding away with the blues on Chaturangui (Hindustani slide guitar), and forging ahead with "folkeyness", Vanessa craven along with her band Lunar Dust, get you 'listening' to tracks you are familiar and not so familiar with.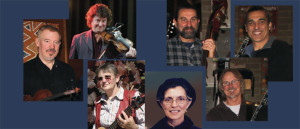 This is another milestone in my musical journey and I want to share it with you, my listeners. I have included a 'smidgen' of my Indian heritage in "You're Leaving" which I play on the Chaturangui (Hindustani lap slide guitar).This is my original tune, and the words were written by a friend of mine Colin Bowes. The instrument has 22 strings. six standard strings with sixteen sympathetic strings. I play this tune in DADF#AD tuning. The sympathetic strings are tuned to match this tuning. I get lost in the sound of the strings when I play this instrument. It is hauntingly captivating. I have tried to capture the sobriety by adding a 'sepulchre sounding effect' to this tune. Plenty of echo and reverb to bring this feeling about. "Forbidden Dance" is a tune that came to me, (as most of my tunes do), when I was absorbed in 'doodling' on my guitar one evening in winter, sitting next to my wood heater. I have two violins on this piece, double bass, my Santa Cruz Janis Ian parlour sized model guitar, which has a beautiful ring to it, and Peter Vadiveloo on percussion – Cajon drum and vocals. It is magical how the tune came together. I had always wanted to play flamenco guitar but never had the opportunity to do so, so this tune expresses some of that desire that has been latent in me all these years. Our lives are full of choices that we make, and sometimes they are not the right ones. This tune expresses some of those sentiments. "Suzanne" the classic Leonard Cohen tune captivated me when I was growing up in India. I heard an Indian singer by the name of Usha Iyre singing it on an LP that I had. I vowed that I would sing the song one day.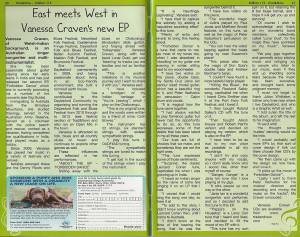 So here it is! To add to this story, I didn't know anything about Leonard Cohen then, until I came to Australia. I didn't know at the time of first hearing the song, that he was the songwriter behind it. I have two violins on this piece. The wonderful magic of violins played by Paul Jonas and Matthew Arnold features on this tune, as well as the magic of Peter Vadaviloo's percussion on the Udu. You can hear the water lapping against the boats going by near Suzanne's place! This piece also has the magic of Don Gula's double bass and Andrew Barcham's banjo. I couldn't have found a more tasteful banjo player. Killing the Blues" the wonderful Rowland Salley song captivated me when I heard Chris Smither play it at the Port Fairy Folk Festival and I loved it. I then bought Roland Salley's CD with the tune on it. Then bought Alison Krauss and Robert Plant's version and decided on playing my version which is on the EP. I hope you like it. I have tried to be as true to my own voice as possible in all my recordings. I don't try and copy anyone with my vocals, so I don't really know who I sound like, other than myself. I hope you like it!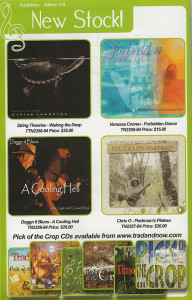 "Danger, Danger" is a Janis Ian tune that I love playing at my gigs. It stirs people up one way or the other. Janis Ian is a wonderful songwriter and performer, and so I decided to add this tune to this EP. "Pappa's on the Housetop" – is a Leroy Carr tune that I heard and liked, and decided to lift the mood of my EP with it. This tune has my own spin on it – but retaining the 8 bar blues format and I hope it will get you up and dancing! Of course I wish to acknowledge and thank all my wonderful band members collectively called 'Lunar Dust' for the magic they have sprinkled on my music. We play gigs together and generally enjoy playing music and bringing joy to people who listen to our music, even if they end up shedding some tears, because the music has been evocative, and brought back some poignant memory.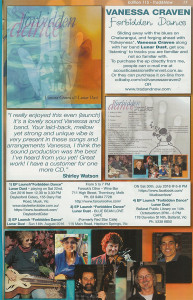 I must not forget to thank Julian Whittaker a luthier who lives near where I live in Australia, and who is a Graphic Artist as well. I told Julian the title of the album, and left the rest to his imagination. It went wild! He thought some 'nudies' dancing would do the trick! I would probably sell more EP's by that sort of cover design, if folk out there choose their CD's by the cover design! He then came up with the design we now have, and I love it!! The colours and it picks up the mood of "Forbidden Dance". Lastly I want to thank Peter Vadiveloo for his musical direction and recording and mixing the music on the tracks. I hope you enjoy my EP it is well worth a listen.
Save
Save