2022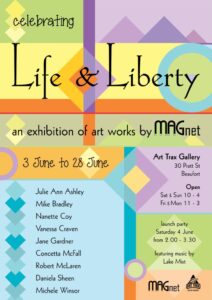 ArtTrax Gallery,
Pratt Street Beaufort.
MagNet Art Display – 1st June to 28th. June 2022
Opening on Sat 4th June 2- 4 PM Lake Mist providing music.
http://www.destinationbeaufort.com.au/listings/arttrax/
Gallery opening hours:
Friday 10am – 4pm
Saturday 10am – 4pm
Sunday 10am – 4pm
Monday 10am – 4pm
or by appointment.Contact: Heather 0427 492 082

Pyranees Art Show Beaufort
Fri, 10 June, 7:30 pm – Mon, 13 June, 5:00 pm
7 Lawrence St, Beaufort VIC
A beautiful display of artwork from near and far right here in the Pyrenees
https://visitpyrenees.com.au/calendar-event/2022-pyrenees-art-exhibition-and-sale/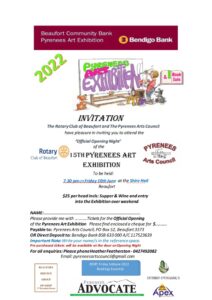 2021
Daylesford Rotary Art Show 29th. Oct to 2nd. Nov. 2021
@ Daylesford Town Hall, Vincent Street, Daylesford FREE ENTRY
29th. Oct to 2nd Nov Online and in Shops in Vincent Street
Please check the web link below for details. (I have 4 pieces of Art in Show shown below)
https://www.daylesfordartshow.com.au/
https://www.facebook.com/DaylesfordArtShow/
Art Trax Beaufort,30 Pratta Street, Beaufort
Art Show – Queen's Birthday Weekend
10 am to 4 PM Fri 11th. Sat 12th. Sun 13th. and Mon 14th June. 10 am to 4 PM
This exhibition will be available to view till June 28th.
The exhibition will be open on all other Fri, Sat, Sun and Mon from 10 am to 4 PM.
https://www.facebook.com/people/Beaufort-Art-Trax/100057192440339/
Pyrenees Art Exhibition
Fri night 7.30 PM, Sat 12th. and Sunday 13th. June 10 AM to 5 PM
Monday 14th. June 10 AM to 2 PM
Beaufort Shire Hall,
Lawrence Street, Beaufort Vic
Opening Night Fri 11th. June 7.30 PM $25 per head (bookings essential, ph. 0417369322)
Check out www.pyraneesartexhibition.org for more details.
2020
Art Trax Beaufort,30 Pratta Street, Beaufort
Art Show, Music and afternoon tea and 25 yrs clebrations!
28th. Nov 2020. 2-4 PM
Sugar'n' Spice playing music.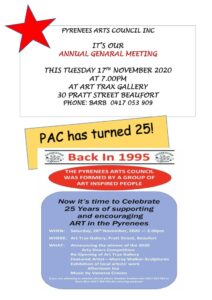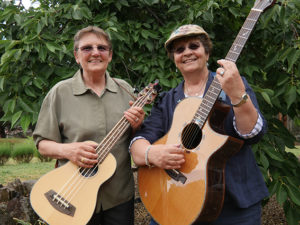 Rotary Club's, Annual Daylesford Art Show. Yes, a 'virtual' event. Running for the whole month of Nov.Lots of wonderful art work has been entered as is each year. Even Covid can't keep us artists from splashing more than a bit of paint around! Enjoy the virtual viewing and they are for sale as well. Here is the link:
http://www.daylesfordartshow.com.au
2019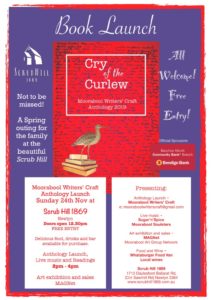 Sun 24th. Nov from 12.30 PM – 4.30 PM
@ Scrub Hill 1869
1713 Daylesford Ballarat Rd,
(Cnr Sawmill Rd) Newlyn 3364
http://www.scrubhill1869.com.au
Moorabool Writers Group Anthology Launch "Cry of the Curlew.
MAGNet (Moorabool Art Group Network) Art display/sales. (Sunday School Building).
Music : Sugar 'n' Spice, The Soulsters (Choir)
Food and beveridge available for purchase : Whataburger and local wines and beer available.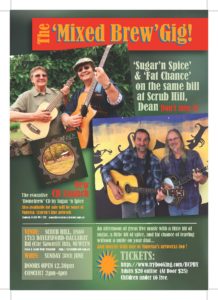 Sun 30th. June 2019
The "Mixed Brew Gig" with Sugar 'n' Spice will launch their debut CD "Homebrew" and Fat Chance playing their wonderful 'stuff'.

Venue:
Scrub Hill 1869,
1713 Daylesford – Ballarat Rd, Cnr. Sawmill Rd, Newlyn in Central Vic.
Doors open at 12.30 PM – you will be able to imbibe on some wonderful local wines and enjoy some food from the Deli Van on site. You will also have the opportunity to view or buy some of Vanessa's lovely paintings – set up in the Sunday School Hall.
Concert commences at 2 PM through to 4 PM
Cost: $20 on-line tickets/ $25 at the door
Booking Link On-line : https://www.trybooking.com/BCPBY
---
"WORKS DERAILED"
Exhibition Opening Sat 4th. May 1-3 PM – Sugar 'n' Spice playing some lovely 'gallery music'!
ART TRAX GALLERY, 30 Pratt St, Beaufort Vic
Gallery Opening Hours :Fri, Sat, Sun from 10 AM to 4 PM