EP Review Forbidden Dance
Nick Charles : "Very nice presentation too. It's great that you're putting out new work and good to hear a couple of famous songs. Can't go wrong with a Cohen classic.
It's a nice progression from your last album. I thoroughly enjoyed it!
I reckon it will do well for you".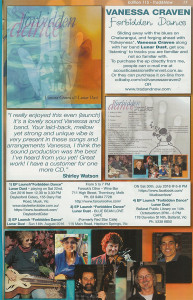 CD Review Filtered Light

CD Review by John Williamson "Trad and Now":
"……..Vanessa has won busking competitions and been a finalist in both the Brunswick and Maldon songwriting competitions. You might say she has paid her musical dues with the release of this, her first album. And it shows. This is a lovely CD to listen to from start to finish, literally.The first track "One Last Shot" makes you want to sit up and listen and the final track, "Lullaby for Monty" is a beautiful instrumental which leaves you feeling at peace after listening to it.. Both tracks were composed by Vanessa along with another six on the CD. They are all of high quality covering topics as diverse as neighbours, chooks, water, office gossip, tea and beloved pets. …….In addition there are five song covers on the CD. The highlight was a superb rendition of "Nights in White Satin". I also enjoyed Vanessa's interpretation of the Bob Dylan song, "I Believe In You". Vanessa is accompanied on the CD by Pete Fidler (dobro), George Condos (latin guitar), Peter Vadivaloo (udu, percussion), Paul Jonas (violin), Louise Godwin (cello), and Aurora Jane (bass, drum kit and she also produced, recorded and mixed the CD.Support the local music industry, this CD is well worth considering and is available from

www.tradandnow.com
….."
Nick Charles : "It's a very professional presentation-lovely artwork. I gave it a couple of good listens in the car (my main listening room!) and again at home .Really enjoyed the first track – good lyric, harmony and feel… probably the standout and no doubt that's why you kicked off with it. The recording and mixing seem ok to me .I enjoyed tracks 1 and 4 best . The Polynesian tune would have benefited from some uke or mandolin may be , to bring out the sentiment a little more. It's a lovely tune. All in all, well done and good luck !
Suzette Herft : " Loved your cd. You've got a great way with melodies. Loved the first song .I thought Sally's song was my favourite, but I now think that this is. I also loved the eagle's song. You should sing your own songs – they are wonderful. No wonder you are in the final for the song-writing contest. I think you should enter it in other contests as well. Well done!"
Prue Clark " Still play and enjoy your CD. Your tunes come into my head uninvited, but I like them!"
Diana Wolfe "I'm loving your CD! The first song is a winner, and your instrumentals are just mesmerising."
Frank Lai " The songs are FANTASTIC!! My favourites are 1 and 10!"
Wendy Schaffer "A very impressive project. Moments of sheer brilliance and creativity.You need to write more songs. The harmony, pitch, tone and rhythm were very unique. I liked that about it the most."
Andrew Rooke "Firstly congratulations for all the effort that so clearly has gone into a very professional production and for the artwork on the packaging. I like the quotations from Leonard Cohen on the cover .Me, being a blues and rock person from way back, I think my favourite is (strangely enough) 'Burning Sand', but there are so many others which I really liked too. The River with its spiritual message is certainly a favourite, as is Russian Caravan Tea in its new guise. I can see how far your guitar technique has come along since you gave away the 9-5 life, particularly on Isa Lei. Of course we share a love for the 1960s great such as The Moody Blues and Bob Dylan so both those tracks go down well with me. My wife Sue is a self-confessed 'dog-tragic' so Lullaby for Monty was certainly appreciated. I can see how much you have been influenced by the great music of the 60s with your use of guitar and harmonica reminiscent of Bob Dylan and Neil Young of that time My only criticism as a rock/blues person is that I would like more tracks with 'oomph' in them; perhaps a cover or two of Leonard Cohen for balance wouldn't go astray either (particularly the spiritual LC such as Who By Fire, If It Be Thy Will). All in all though, you can see that I am hard put to pick a favourite and I certainly say a big 'mubarak ho' for a wonderful effort in getting this set together."
Peter Jenkins "Hello V … am enjoying your CD!
Alison Pearl "Just stayed in Melbourne for a week with Aurora Jane and heard your amazingly beautiful CD! WOW! Well done!"
Ankur Gupta " Your experiments in natural-music-making are indeed awesome and may your creative juices keep flowing… it must be a real thrill producing never-before sounds and I wish you all the very best!"
Anju Ralliaram "It is an out of this world production .I am really very proud of this sister as always."
Save
Save
Save